D.H. Productions anniversary party djs,
Anniversary Celebration Party
Planning a work or wedding anniversary celebration party is a lot of work but the rewards are endless and a great way to say we appreciate the guest or guests of honor longevity.
Often a work anniversary is celebrated in the office or with a few friends at a local establishment. For others, a more formal event with all the extras like dining and entertainment.
First should be the guests list and as more and more people are health conscious, diets and food allergies, making food, beverage, and deserts choices should also be considered.
Several factors for setting a day, time and location of the anniversary party such as when the most people can attend, travel, weather conditions for the season, baby sitting. Perhaps the time can match the special event as well. For example if someone was married at 4:00 PM, it would be a nice way to re-capture the event.
When it comes to entertainment, music should be appropriate for the age group, when hiring a DJ make sure they know the music landscape from the oldest to the youngest and knows how to work the music for everyone.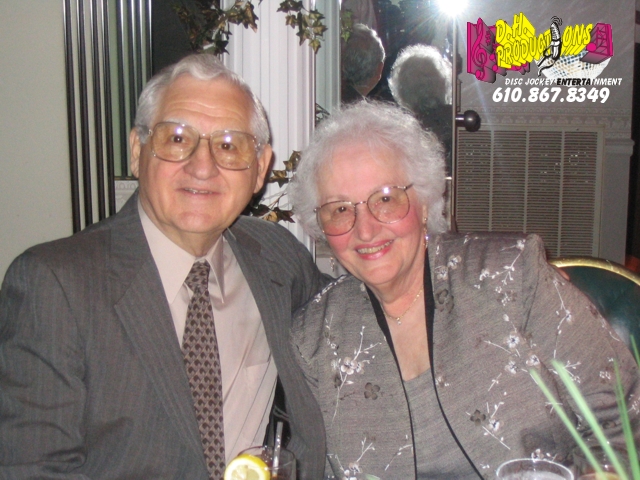 "Music was very good.
A little for everyone's enjoyment, very well done.
- Nikki B. - Bethlehem, PA
If it's a wedding anniversary party you're planning it may seem like getting married all over again! In many ways it is! So remember to spotlight that special "1st Dance" with your partner, re-create the moment with your original wedding song.
Whether you're celebrating your 1st or 50th Anniversary celebration, D.H. Productions DJs For All Occasions can make your event a fun and special affair for all your guests!
Traditional Anniversary Cake cutting and even a garter and bouquet are all some of the formatics that can take place at your Anniversary Party.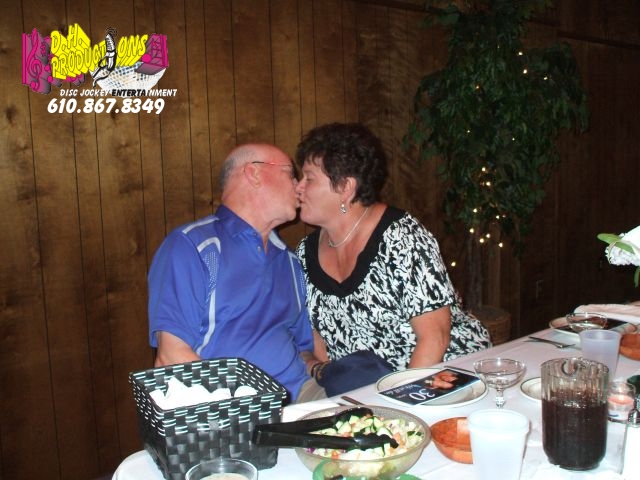 "Heather was wonderful.
Everything went very well and we all had a great time!
Thank you!
Kristi B. - Easton, PA
D.H. Productions Lehigh Valley, Pocono, Philadelphia, New Jersey DJs For All Occasions
** SERVICE AREAS **
D.H. Productions your DJ connection in Bethlehem PA, Bethlehem Township PA, Allentown PA, Easton PA, Hanover Township PA, Hellertown, Kutztown PA, Lower Macungie Township PA, Lower Milford Township PA, Lower Saucon Township Macungie Township PA, Nazareth PA, New Tripoli PA, North Whitehall Township PA, Palmer, Palmer Township PA, Quakertown, Quakertown PA, Salisbury Township PA, South Whitehall Township PA, Upper Macungie Township PA, Upper Saucon Township PA, Washington Township PA, Whitehall, Whitehall Township Pennsylvania.
Our party and wedding DJs entertain in communities of the Lehigh Valley PA: Catasauqua PA, Cementon PA, Center Valley PA, Cherryville PA, Coplay PA, Emerald PA, Emmaus PA, Freemansburg PA, Fogelsville PA, Fountain Hill PA, Forks PA, Germansville PA, Hellertown PA, Ironton PA, Kuhnsville PA, Limeport PA, Lower Saucon PA, Neffs PA, Orefield PA, Summit Lawn PA, Vera Cruz PA, West Catasauqua PA, Wilson Borough PA, Zionsville PA.

If your area is not listed, our DJs and fun photo studio photo booth is available by counties: Lehigh, Northampton, Berks, Bucks, Carbon, Chester, Luzerne, Monroe, Montgomery, Philadelphia, and Pike.

Additionally our disc jockeys and Photo Booth services are available to the Phillipsburg, Alpha, Alexandria Township, Holland Township, Clinton and Atlantic County New Jersey areas. If your area is not listed look at our travel page or use our contact section from our menu.

See Anniversary Party Ideas From Pinterest
See Bridebox Offers a list the "Most Popular Wedding Anniversary Songs" with videos