country, oldies, and adult contemporary shows for stations in Allentown, Easton, and Wilkes-Barre, among others. Producing morning shows, request shows and other programs has helped him develop a music-programming concept he calls the "Oh Wow Hits." He describes these as not always the typical party songs, "...but songs that make you feels good, songs that make you want to get up and dance...You have to work it, feel it and love it! If you don't feel it, then they won't and you can't expect them to!"
D.H. Productions actually has a number of radio personalities who are involved with various stations in the area. Dan estimates that another ten percent of their business comes from this connection. "We supply stations with sound for big events, and our
Digital Sound Studio Division
creates sound tracks for fireworks and other events for radio stations."
"Large sound reinforcement is in our blood," says Dan. He even had the opportunity to be a sound tech for an appearance by former President Ronald Reagan at Glassboro High School in New Jersey. D.H. Productions uses a combination of Carver, Cerwin Vega, Bose, Technics, American DJ, Audio Techinica,
Numark, Gemini, Electro-Voice, and Peavey gear.
Flowing in all directions
Based in Lehigh Valley, PA, D.H. Productions has provided entertainment in a variety of locales, including the Poconos vacation area, Philadelphia, New York, New Jersey, Pittsburgh, Virginia, and even as far away as Florida and California. Their referrals have confirmed the value of having a strong web presence. "With the Internet, (check out
www.dhpro.com
), many people who have traveled into area for weddings, family reunions, or holiday parties, ask us to come to their town to entertain."
And entertain they do. Besides the unique poolside option, D.H. Productions performs for all types of occasions, including everything from the usual birthday and anniversary parties, wedding receptions, teen dances and proms, to things like divorce parties and even funerals.
If the crowded pools and the multitude of satisfied clients quotes at
www.dhpro.com
are any indication, Dan Wade and D.H. Productions Disc Jockey Entertainment.
have what it takes to give people that "Endless Summer" kind of feeling all year long and for many summers to come.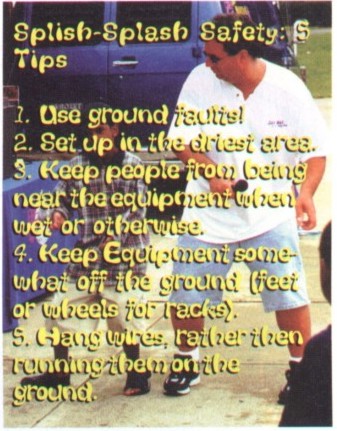 Splish-Splash Safety: 5 Tips:
1. Use ground faults!
2. Set up in the driest area.
3. Keep people from being near the equipment when wet or otherwise
4. Keep equipment somewhat off the ground (feet or wheels for racks)
5. Hang wires, rather then running them on the ground.
(
Back page 1
|
Cover
|
Home
)