D.H. Productions wedding & party djs for all occasions
Often we get the question, how far will you travel to dj? Our answer, "Anywhere the party is at!" Seriously this really does happen, after a chuckle, true story, James Gorem said he
"Enjoyed music immensely, keep up the good work."
at a class reunion. You can see what others said
here.
James also wanted to know
"Do you travel to Pittsburgh?"
We have been asked over the years if we would travel Florida, Maryland and to DJ a wedding for a Lehigh University student from Michigan.
We dj at college and alumni events, check out a page from Lehigh University Class Reunion Handbook, DeSales, East Stroudsburg, and Penn State Universities, plus Moravian and Lafayette Colleges as well, have used our services. So we put together a small list of locations, if you don't see your location contact us and tell us where the party's at.
If a short answer is what you were looking for, then many areas in PA, NJ, and sometimes NY:
Pennsylvania (PA)
So we're living here in the Lehigh Valley PA, thought we were going to say Allentown? Nope, Lehigh Valley is where D.H. Productions DJs For All Occasions calls home and we are proud to be a part of everyday life, always receiving a warm greeting from residents who make us feel like we've arrived at our second home. We are honored to be welcomed into communities and neighborhoods who love our DJ service.

⁂ Lehigh Valley (PA)
These are D.H. Productions immediate dj service areas Allentown, Bangor, Bath, Bethlehem, Catasauqua, Center Valley, Coplay, Easton, Emmaus, Fogelsville, Fountain Hill, Freemansburg, Hanover Township, Hellertown, Kuhnsville, Lehighton, Lower Macungie Township, Lower Milford Township, Lower Saucon, Macungie, Nazareth, Northampton, Orefield, Palmer Township, Pen Argyl, Salisbury Township, Saucon Township, Slatington, South Whitehall Township, Trexlertown, Upper Macungie Township, Upper Milford Township, Upper Saucon Township, Whitehall Township, and Wilson Borough.
N
orth to the
Pocono
, Scranton, Wilkes-Barre, Promised Land, Wallenpaupack, Wind Gap and Lehighton areas. Just a few great places full of wildlife to consider a family reunion, picnic, outdoor wedding in the summer, breath taking snow in the winter or the colorful leaves in the fall for perfect, lavish extravagance, profusion, elegant weddings.
⁂ North Of Lehigh Valley Towards Poconos (PA)
D.H. Productions dj areas serviced in East Stroudsburg, Greentown, Lehighton, Milford, Palmerton, Pocono Pines, Pocono, Scranton, Sciota, Stroudsburg, Tobyhanna, Wilkes Barre, and Wind Gap.

⁂ New York (NY)

D.H. Productions dj service areas in New York - Binghamton, Endicott, Johnson City, Oneida, and Vestal.
W
est to Topton, Reading, Sinking Springs, Hamburg, and Pottstown areas we have done many weddings and surprise birthday parties, like the Ficarro's bash!
⁂ West Of Lehigh Valley To Reading (PA)
D.H. Productions djs serviced the areas of Gilbertsville, Kutztown, Reading, Sinking Springs, and Topton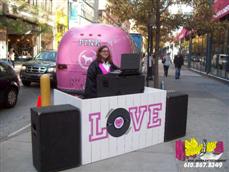 S
outh to Lansdale, Quakertown, and the City Of Brotherly Love, Philadelphia, for
Writing.com
Conventions,
1st Union National Bank Retirement party
or
Victoria's Secret - The Shops At Liberty Place
, where our female DJs entertained for "PINK Bras 101": A crash course on PINK bra styles! See some pics of the event on D.H. Productions
(DHPPartyPeople)
facebook Photo album
.
⁂ South Of Lehigh Valley Towards Philadelphia (PA)
D.H. Productions dj areas serviced in Blue Bell, Chalfont, Coopersburg, Downingtown, King Of Prussia, Lower Milford Township, Mechanicsville, Milford, Montgomeryville, Pennsburg, Perkasie, Philadelphia City, Quakertown, Warrington, Wayne, and Zionsville.

E

ast to Alexandria, Holland Township Community Day, Milford, Belvidere, Clinton Holiday Inn, at "Jitter Bugs" night club as far down as Atlantic City, N.J. where D.H. Productions joined one of Philadelphia's legendary radio personalities Hy Lit for the Ocean City High School Class of 1961 Reunion at Heron Pines Country Club.



⁂ New Jersey (NJ)

D.H. Productions dj areas serviced in New Jersey - Alexandria Township, Alpha, Belvidere, Blairstown Township, Clinton, Elizabethtown, Flemington, Frenchtown, Hackettstown, Holland Township, Kingwood Township, Lopatcong Township, Milford, Panther Valley, Phillipsburg, Pohatcong Township, Raritan Township, Washington Township, and Washington.

"I don't think you could pick better music"
Alex Keeler, Lower Macungie Pool Manager
(Best Lehigh Valley Wedding & Party DJ's! Don't take our word for it,
more reviews here)
So take a look around, check out our reviews, join us on social media outlets, feel free to ask questions if you have any.
Thanks for stopping by and we look forward to entertaining you, your family and guests. Oh and hey! They had a fantastic time and so will you!
D.H. Productions DJs For All Occasions
Your DJ Connection