DJs!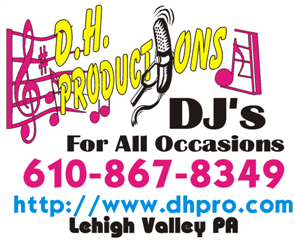 DJ Wedding & Party Packages here
Photo Booth!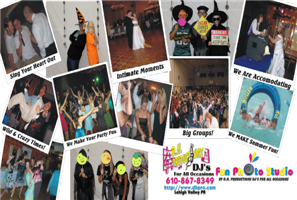 Photo Booth Details here.
Your DJ Social Media Hook Up!
☆ Check out our videos on Youtube
☆ Follow us on Twitter
☆ Join us on Linkedin:
Dan Wade / Heather Lynne
☆ Like us on Facebook: Facebook

D.H. Productions DJs For All Occasions
Your DJ Connection
Year In Review
A blast from the past or a reflection of last year either way, thank you for allowing us to entertain all of you. You are what makes us work to be the best DJs. Thank you!
Year In Review 2013
Year In Review 2014
Year In Review 2015
Year In Review 2016

DJ For Non-Profit!
Need assistance for your Non-Profit Organization K Walk / Runs, Fund-raisers / Non-Profits, Dances? We're here to help, see our
Non-Profit Organization
page for more details.
DJ Vs. DIY Wedding
Let's face it plenty of us watch the DIY network for the advantages of doing it ourselves. We met a mother who wanted to give her son and future daughter in-law the best wedding they could on a budget.
Upon her journey of DIY wedding planning she called us asking a few questions resulting in us taking an objective look at DIY weddings. This DIY video features such things as Quebbie DJ in a Box Music system courtesy of Leiser's Rentals See a DIY wedding video here

Costume Party With A dj
♪ Weaversville Inn Costume Party
Saturday October 29th 2016
D.H. Productions Djs For All Occasions
Weddings, sweet 16's, carnivals, festivals, schools & pools we have you covered with awesome entertainment for all ages. Contact
D.H. Productions Djs For All Occasions
for a free, no obligation consultation.